I had a few issues of this title during my first period of collecting (1973-1976) and I'd been slowly amassing issues since the early '80s. When the last few issues fell into my lap in February, it became time to once again spend some time with the title. In this post, we'll talk about the first three issues.
I had fond memories of this title from when I was a kid and depending on which issue I first owned and when I obtained it, my exposure to this title might predate my decision to become an actual collector. There's a lot to like about WANTED; there appears to be a lot of golden and silver age goodness between these covers and the marketing is wonderful; The World's Most Dangerous Villains promises drama and high stakes! There's also a heavy representation of the Earth Two characters who I had first encountered in the pages of Justice League. I took an immediate liking to the Golden Age characters and the JSA in particular; immediately preferring them to their more modern counterparts.
I have to wonder if this book and its sister title Secret Origins of Super-Heroes and Super-Villains weren't a repository for the reprinted material no longer appearing in oversized 25-cent issues, but I'm not sure the timing completely supports that.
Issue 1:
The title of the book is immediately tested in the opening story of the first issue, "The Signalman of Crime," reprinted from Batman 112, December 1957. "World's Most Dangerous Villains?" I actually had to look this guy up to determine that this wasn't his only appearance in addition to being his first. It isn't, but even switching to being a Green Arrow adversary under the name of "Blue Bowman" this gentleman doesn't exactly have a distinguished career.
He's a small-time hood who can't recruit a gang and decides he needs a gimmick to make a make a name for himself. Inspired by the Bat Signal, he settles on committing crimes using signs and signals. Seven lackluster but vaguely charming pages later, Batman and Robin apprehend the Signalman after many sign related puns and a wholesome lack of Danger.
The second story is the "Crimes of the Clock King" from World's Finest 111, (Aug 1960). Clock King has no real powers to speak of, but he does move a minute hand forward to enable himself to steal some jewelry. Sadly, the strongest impression made by this story is the extent to which Green Arrow used to be nothing more than a pale imitation of Batman. We see the Arrow-Signal and the Arrow Car and I can't help but wonder if there's an Arrow Cave somewhere. The story is filled with puns and features a giant prop, in this case, an hourglass. At least I'd heard of the Clock King and the time-related puns weren't quite so dreadful as the sign related puns.
Finally, there's "Menace of the Giant Puppet" from Green Lantern #1 (July/August 1960), a monument to early Silver-Age tropes. A villain called the "Puppet Master" is controlling small-time hoods, making them commit crimes. Meanwhile Carol, despite the progressive move of having her running Ferris Aircraft, spends a lot of energy pining after GL, trying to maneuver him into a proposal. We find out she actually called her dad and asked permission to date GL. The titular confrontation with the giant puppet feels kind of tacked on, driven mostly by the interesting visuals rather than the plot. In the final confrontation, the Puppet Master's defeat is embarrassingly easy, especially given the book's sub-title.

Ultimately, issue 1 features three profoundly second-string bad guys.

Issue 2:
The second issue finally gives us some big name villains; the Joker and the Penguin team up in the "Knights of Knavery" from Batman #25 (Sept/Oct 1944). which reminds us strongly of the fact that comics, as good as some may be were initially publications for children. There's a cheesy sit-com quality to the story. The villains, who strangely enough are sharing a cell, manage to escape through the masterful ploy of borrowing a broom.
There's also an extended sequence where Penguin is pulled aloft by a handful of helium balloons with Batman and Robin in tow. Not only is this physically impossible, but it also appears that Penguin has super strength of which we weren't previously aware. Over the course of the story, the two villains bicker, then team-up and then let their desire to one-up
each other proves to be their undoing.
Really, the best thing about this story is the narration. If you've ever seen the Batman TV series, you can't help but hear that series' narrator in your head when you read this. It's evident that comics from this era or at least the stories written by Donald Clough Cameron ( credited as C.A.M. Donne) had a strong influence on the voice of that program. This makes a rather mediocre story much more enjoyable.
The other story in issue #2 gives us another "name brand" villain; it reprints the second appearance of the Trickster from The Flash #121 (June 1961).
James Jesse, The Trickster, we're reminded, was a famous aerialist, who invented shoes that made it appear as though he could walk or run on air. He began a life of crime using gimmicks and gadgets as a trademark.
At the beginning of the story, Jesse, a. k. a. inmate 10828 is allowed to build toys for orphan children in the prison yard. He escapes by installing a compressed air system in a model plane.
Once out of jail, Jesse makes sure that he's on the scene whenever Flash apprehends any criminals, then he uses one of his gadgets to "make off with the loot."
Eventually, Flash tracks Jesse down to a toy factory where he builds his equipment. We momentarily think Flash is defeated, only to be treated to a careful explanation of his escape.
Flash apprehends the Trickster with ease. For a 12-page story, this one, much like the Green Lantern story in issue #1, seems surprisingly lightweight. There is little drama and any jeopardy was ephemeral. The high stakes promised by the title are nowhere to be found.
Issue 3:
The third issue returns to giving us no brand name villains but is 100% Golden Age. All Earth-Two all the time. Sadly, the first story was a bit of a slog. It's "The Little Men Who Were There" from Action Comics #69 (Feb 1944). In this, The Vigilante faces
The Dummy who is either a small man resembling a ventriloquist's dummy or a ventriloquist's dummy brought to life. His original gimmick was to pretend to be inanimate so that his ventriloquist was thought to be the real gang leader. We might give this story some credit for trying to match the book's subtitle. The Dummy was one of the most prominent members of the Vigilante's Rogues Gallery and could be considered the hero's archnemesis. The two met many times including a number of times in stories featuring the Seven Soldiers of Victory. In pre-Crisis continuity, the Dummy killed Vigilante's sidekick, Stuff, the Chinatown Kid.
In the story, the Dummy and his gang are using a shrink ray to sneak onto planes and robbing them reminiscent of train robberies in the old west. Eventually, they use the shrinking ray on the Vigilante and Stuff and leave them to the mercy of a chicken. This should be hilarious, as we all know that chickens are inherently funny, but no such luck. I'll give the writers some credit for using the phrases "thieving jackanapes" and "homicidal homunculus" but it's not enough to save the story.
The second story gets more interesting as Doctor Fate encounters "The Fishmen of Nyarl-Amen" from More Fun Comics #65 (March 1941). Nyarl-Amen, with his fishmen to serve him, ruled the world from his undersea city 50,000 years ago. With little explanation, he now seems bent on returning to power.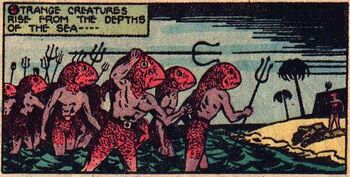 To that end, Nyarl-Amen interrogates an American serviceman and his Fishmen invade Hawaii almost a year before the attack on Pearl Harbor. Fate confronts the Fishmen's leader and then destroys their city, killing everyone within. This story and its reprint are Nyarl-Amen's only appearance.
The final story in the issue is "The Human Fly Bandits" featuring Hawkman and Hawkgirl from Flash Comics #100 (Oct 1948). This is towards the end of Hawkman's run in Flash Comics which ended with issue 104, although he remained featured in All-Star Comics through early 1951. The plot revolves around a gang who have stolen a gyrocar and a gyrobelt that allow the possessor to defy gravity. It's the so-called science in this 8-page that makes it so abysmal. We do get an oversized prop; the Hawks are captured and left to drown in a huge thermometer, †which is being heated by a stove so that the mercury will rise. They escape by causing an explosion which throws them through the glass with no ill effects. I guess we know much more about the toxicity of mercury than we did in 1948.
Also, the Gyrocar can drive up the side of a building and park there because of gyroscopes. The gyrobelt works the same way, because "the rotary action of a gyroscope overcomes the force of gravity." Nonsense! You can see how gyroscopes work here. I hope this is the low point for the series. The plan is to cover the remaining issues, but that might be a long time in coming if these don't get a bit better.
References:
Wanted, The World's Most Dangerous Villains #1, DC Comics, July/Aug 1972
Wanted, The World's Most Dangerous Villains #2, DC Comics, Sept/Oct 1972
Wanted, The World's Most Dangerous Villains #3, DC Comics, Nov 1972
Signalman – Accessed June 2019
Batman (1940) – #25 "Knights of Knavery" accessed 3 July 2019
Donald Clough Cameron – '(Golden Age writer), C.A.M. Donne' accessed 3 July 2019
Donald Clough Cameron accessed 3 July 2019
Trickster (DC)(01 – James Jesse) Chronological Listing accessed 3 July 2019
Dummy (DC Comics) – accessed 4 July 2019
Stuff, the Chinatown Kid – accessed 4 July 2019
Hawkman (DC)(Earth-2 – Pre Crisis) Chronological Listing accessed 3 July 2019