Happy Independence Day!
We'll begin in our usual way. To mark the occasion this year, we're flying the "Bunker Hill Flag" which is a bit different from our usual July 4th flag; its not one of the variations of the stars and stripes. It's famous for flying at the Battle of Bunker Hill the first major conflict of the Revolutionary War, except that it isn't. I'll explain. It's a story reminiscent of the history of the Bennington Flag.
The Bunker Hill Flag, so named because many believe it was flown by the colonists at its eponymous battle, has a blue field with the red St. George Cross on a white background in the canton. In the upper left hand corner of the canton is a pine tree which to the colonists symbolized liberty.
There are no contemporary accounts of this flag being flown at the battle and most likely the colonists flew what is known as the colonial flag; a red ensign with a pine tree shown in the canton. Both of these flags are modeled on British flags with only the addition of a pine tree because at the time, many colonists still believed that reconciliation with Great Britain was possible.
The evidence that the blue Bunker Hill flag was flown at Bunker Hill consists entirely of a painting done by Jonathan Trumbull, an eye witness to the battle, and an interview of the daughter of a veteran of the battle.
But the daughter's account only said that her father claimed to have raised a blue flag at the battle while an earlier version of Trumbull's painting showed the blue flag colored red; that painting is considered to be evidence that the Continental Flag was used.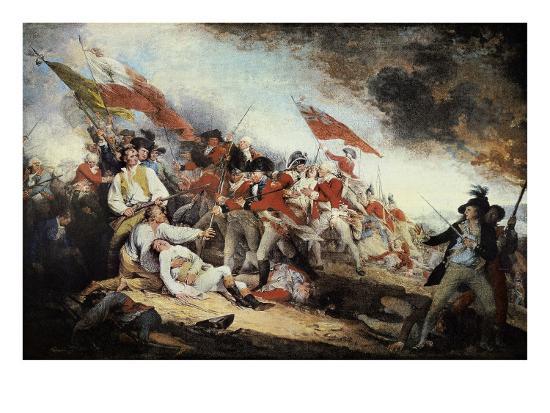 There's one piece of direct evidence that the Bunker Hill Flag was actually flown at the battle, a book published early in the 19th century. The book contained a picture of the flag but the description described it as red rather than blue. This is generally considered to be a printing error.
Despite it's questionable origins, the Bunker Hill Flag became a symbol of both the Revolution and of New England. It remains in use as a flag of New England today.
This seems fitting. Despite Bunker Hill being the original objective of both the Americans and the British, most of the fighting occurred a third of a mile south on Breed's Hill. Some even cal it "The Battle of Breed's Hill."
References