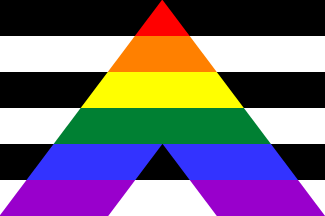 It's Pride Month and so we're flying a "Straight Ally" flag to show our support. I'm not wild about the flag itself. The stylized "A" for ally with the rainbow motif is both perfect and visually striking. Unfortunately the background lessens the effect somewhat; the
black and white strips remind me of an old style prison uniform and it has a lot of contrast. Because of this the rainbow A doesn't stand out as well as I would have liked. I probably wouldn't have thought about it quite so much but the first version of the Ally flag that I saw had graduated shades of gray in the background and looked better. But the marketplace once again has spoken in order to choose the version I don't like as well.
Of course, the Ally flag is a derivative of the traditional LGBT Pride Flag which was designed by Gilbert Baker and first flown in San Francisco in 1978. The rainbow may have been inspired by Judy Garland's "Over The Rainbow." Interestingly the flag originally consisted of eight stripes representing sexuality, life, healing,
sunlight, nature, magic & art, serenity and spirit. Over time, the number of stripes were reduced to the six we see on the ally flag. We've never gotten a complete spectrum on any version of the flag but you have to admit, as a metaphor for inclusiveness, it's hard to go wrong with a rainbow.
It seems like the Pride Flag is in process of increasing the number of colors again. There's a new version which adds stripes to support people of color and another which adds a white stripe to represent the full spectrum of gender and sexuality as well as "peace and union among all."
The Ally flag always puts me in mind of a joke from "Dimitri Martin: Person" which is pretty funny. Interestingly, the first thing I found when I was looking for this clip was a discussion of whether or not the shirt described in the bit would be offensive. I hope not; as a society we currently seem to be actively seeking things to offend us and that isn't healthy.
References:
https://en.wikipedia.org/wiki/Rainbow_flag_(LGBT_movement)#Rainbow_colors_as_symbols_of_LGBT_pride